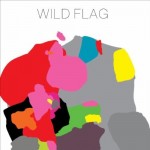 Best album of the year by a member of Sleater Kinney: Wild Flag by Wild Flag
Corin Tucker won this last year, so Wild Flag had to win it this year. In all seriousness, both those records kill and for very different reasons. Wild Flag is loud and fun and probably the record I danced to the most (with or without my girlfriend, beer) in 2011. In some respects, 2011 was the year of Wild Flag. I saw them a bunch of times, I could not wait for their 7 inch, bootlegs of their early shows, album and opening slot at one of what we now suspect to be the last Sonic Youth shows of all time. None of it disappointed (except maybe when I saw 'em on an off night at Maxwell's not too long ago). Carrie Brownstein's guitar work is unmatched in this pop/rock n' roll game. See: "Racehorse."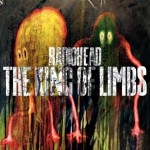 Only album to make this list that is nominated for GRAMMYs: The Kings of Limbs by Radiohead.
Good music for sitting at my job, ominous weather outside, finding excuses not to work, thinking about getting a new job.
"Give up the Ghost" is I think the closest I've felt to an actual musical instrument in any Radiohead song ever. It's the best song on the very short album and probably my favorite because it's closest to the style of In Rainbows, which I believe to be the greatest Radiohead album of all time.
The second best punk album of the year: Leave Home by The Men.
I already christened Gnarwhal's Duane the best punk album of 2011, so this has nowhere else to go. This album sounds like Sleater Kinney's The Woods, in that it breaks your stereo, but in style. It's a relentless album. Great for biking on my trainer in my apartment. As much as I like experimental, weirdo shit, the album is best when its not going nuts. "Think" and "Bataille" are some of the most enjoyable songs of the last decade, up there with At the Dive-in or Jay Reatard.
Best Boris record of the year: Heavy Rocks by Boris
There were technically three Boris albums released this year, which is three more albums than Slayer put out this year (ha! take that Slayer). But seriously, I don't listen to a lot of metal, and metalheads would laugh, then spit, then laugh in my face again, if I told them Boris was a metal band. But they are. Especially on Heavy Rocks. The other two (Attention Please and New Album) you can argue argue argue. On all three albums, you can tell Boris had a lot of fun in the studio, messing with all sorts of sound effects and crazy expensive shit. Heavy Rocks is the best because it doesn't get in the way. "Window Shopping," a Karma to Burn-like song, is my favorite and the most fun song on the record, but "Jackson Head" is probably the best combination of metal and electro that Boris has ever done.