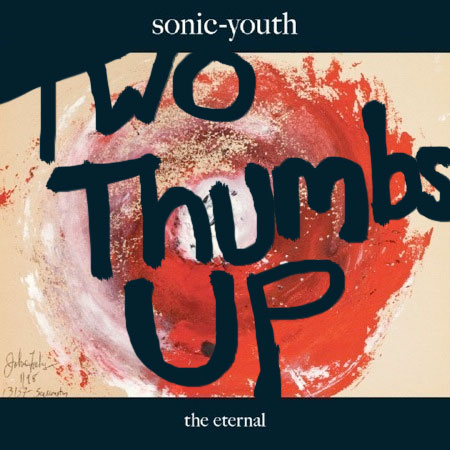 Here's my review of the new Sonic Youth album I've been listening to on and off for a couple weeks:
The first line of the new Sonic Youth album The Eternal is "I want you to levitate me."
The last line of the new Sonic Youth album The Eternal is "I want you to sign my neck."
Kim Gordon spurts out the first line like the first line of a good whiny punk song.
Kim Gordon whispers the last line. Then the word Sign is sighed. Or the word Sigh is sighed, which would be better.
The first song is 2:11. Fast. Loud. Fuzzy. Loud.
The last song is 9:43. Slow. Loud. Drony. Soft.
The immediate and fast Sacred Trickster begins with an open ended desire. The line could mean a lot of things on its own. In context, it's the narrator asking music lift them up, get them dizzy, and like a Noise Nomad, levitate them and spin them around. Sure. That's very pleasant.
The spaced and slower Massage the History ends with the narrator's very blunt, realistic, desire to have their neck signed.
The album narrows its scope from first to last line.
The album starts with music as a savior, a noise savior maybe, that will lift you off the ground and get rid of all your problems.
The album ends with the downside of music. In context, it's about the failures of the music industry. No money. Committing suicide. Not everyone makes it out alive. It says maybe a new song can erase all these bad things of the past. There is a hint of the saving power of music, though a much more realistic one. The last line leaves us with a very brutal view of the power of music. I want you to sign my neck. Is this a fan? Is this how sad some people will stoop to remember their heroes? Washed up heroes? Here's a song to massage the history. I think this means the song's power lies in rearranging the past with a more positive spin. This song doesn't do that, though. It's very sad. Though it is about sweet songs that have the power to temporarily erase problems. But the last line itself is a problem. The 4th wall has fallen down and has not exactly been broken, it falls under it's own weight. Kim is whispering, not spurting. And she leaves us with that last line and that sigh. I like that very much. Music's innards are exposed. They are calling themselves out. Music does have the power to lift us, spin us, and erase bad things, but it doesn't last forever, album title aside.
To end: From the first song championing the supernatural powers of song to the last song poking holes in that exact argument, this is a great fucking 16th Sonic Youth album.