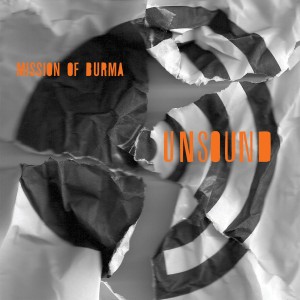 New record label. New way of writing songs. New spot to record at. Couple years older. Album title that means literally "not sound." Thirty-four-and-a-half minutes. Sounds like Burma. Burns like Burma. Kicks the crap out of every other rock n' roll record released in O-twelve. If this was the only record released the entire twelve months, it would be a great year for music.
From Roger Miller's "Maybe, maybe this is it," and retarded blues riff on "Dust Devil" to the exhausting 2-minute classic Clint Conley anthem "7s" to Peter Prescott yowling "Detectors on!" in "What They Tell Me," Unsound is required listening for anyone with ears and a soul. And even if you're not into the whole soul thing, ears and a basic knowledge of guitar/bass/drum music will do just fine. It may be the best record Mission of Burma has ever recorded, but even though I've been told I'm definitive or affirmative to a fault, I won't attempt a bite at at that.
Songs by Roger Miller are undeniably his, and the same goes for the other two, yet they all end up moving together in the right direction — like choppy whitecaps on the ocean. Thanks for allowing me to further the ocean theme the band has going on the second half of the record, much appreciated, it feels good, how was it for you? Bob Weston's mark on the record seems more prominent and more profound, which is a great thing. The end of "Add in Unison" with synth trumpets (or are those real?) and tape loops of "They're just waves, just waves" and "You can swim against the current" are phenomenal.
If you haven't listened to this record yet, do so immediately. And then at the end, after Burma tells you to "Forget what you know," heed the advice. Forget what you know, who you are, why you ever decided to listen to any other music aside from this, go back to square one, forget what they told you, what they sold you, forget the trumpets, the hi-fi, the tape loops, the stupidly addicting guitar riffs and turn the record back to track one. Do it all over again.
Recommended track: "7s"