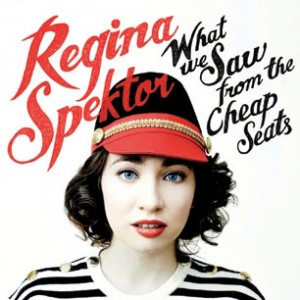 Let's start with a bang.
The most addicting and most unlikely for me to fall in love with album of 2012 was Regina Spektor's What We Saw From The Cheap Seats. Though I listen to a lot of louder, noisier guitar rock n' punk metal roll, I think this record is more unafraid and more adventourous than anything rock that came out in 2012.
From start to finish, I don't think there was a better collection of songs in the larger umbrella of pop music than Cheap Seats. A lot of the crickets don't think so and it's not busting up any lists, but that's alright. I have a feeling this is one of those records that a few years from now will be re-alized and re-discovered and re-loved by a whole gaggle of assholes who write about music. It will probably mean she will have to top this record for the masses to look backwards and that will be a hard task.
I've made my fool's share of ugly comparisons when I attempt to write about music, but I have to make another one here: Regina Spektor and M.I.A. I'm not a huge fan of M.I.A. — I do recognize she has a lot of songwriting talent — but Spektor makes a lot of similar, interesting noises on this record: drums with her mouth, taking lines from other famous songs, singing in accents and packing different styles of singing into one song. I'm not actually sure M.I.A. does all those things, but Regina Spektor sure as hell does, and it's done masterfully. M.I.A. is seen as one of the most badass chicks in pop music and I think Regina Spektor's music is more badass and more daring because she's not afraid to have fun and sing about how much goddamn fun she's having while doing interesting, never-been-done-before shit with sound. Listen to "All the Rowboats" and "Oh Marcello" to hear some unusual sounds that I don't hear on any radio.
In "Oh Marcello," she quotes the Animals' "Please don't let me be misunderstood" and it's pulled off as well and geniusly as when PJ Harvey sings "What if I take my problem to the United Nations?" on last year's Let England Shake. That was 2011's best record and Cheap Seats is it for 2012. When she sings about the Bronx (she grew up about 10 blocks from where I live and am currently writing this) it's also pretty awesome for me because nobody gives the Bronx any love, but that wasn't the reason I made it the album of the year. It's the best goddamn album of the year because the Allman Brothers have that shitty annoying instrumental song called "Jessica" and this record ends with a song that murders that one, titled "Jessica."
Recommended track: Ballad of a Politician
Line to leave you with: "Shake what your mama gave you. You know that it won't last. You're gonna taste the ground real soon. You're gonna taste the grass."