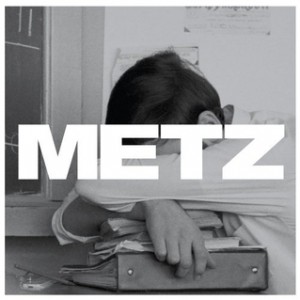 Ok so comparing this to Bleach isn't fair. It barely makes sense. They're not even similar albums, just kind of a kindred vibe surrounding the two, which is even more greatly enforced by this similarish drum diving picture:
Not to mention that Rats pretty much is Negative Creep, but I digress.
That's not to take anything away from this incredible debut, which I recently found out I'm only 2 degrees of separation away from thanks to an excellent Top 10 of the year post by a former co-worker, Christina Storch. Bleach was sloppier, more like a Melvins album, and that was 90% of the charm of Bleach. METZ is full force adrenaline shots right to your fucking heart because death cannot stop it. It's a freight train, noisy and unruly, it's a bull seeing nothing but red (if that were a thing), it's a dead pixel, it's a bright light, it's a No Yield sign, it's a fountain of sweat, it's a FAFSA error in your favor but Sally Mae made the opposite, it's flying a fucking kite during the end of the world, it's tacos at 2 am. This could be the best album of the year. 10 songs in 29:45 with 54 seconds of silence. Adam, you need to listen and tell me if I'm out of my fucking mind. About liking the album that is, we both know I'm out of my mind.
So why didn't I give it best debut? Shut up, that's why.
Recommended Track: Wet Blanket
That's it for this week everyone! This has been a taste of what's to come. There are a ton of awards still to give out, and I'm dragging this thing out into the new year. We're gonna take a break for the weekend but we will be back on Monday with the Shorty for The Best Album I Thought I Would Hate! Chilling visions of things to come!