I recorded the whole show but I'm just putting up Daniel's portion for now.
Grab it here: http://www.mediafire.com/?rkbmjy36dbd4h13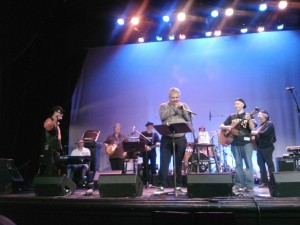 Andrew, Ashley and I drove up to New Hampshire this weekend with tickets in hand to a benefit concert for Brett Hartenbach, a folk musician who had played with Daniel for some time before suffering a grand mal seizure and discovering he had a grade III anaplastic astrocytoma brain tumor. You can read more about him and the fund to help him raise money for his treatment here: http://thebrettfund.com/
Again just Daniel's set for now (not for lack of quality or anything, the whole show was fantastic), which he played with band Wooden Eye and Brett as well. Check out the Brett fund and if you can, help out. Pick up the latest album of people covering his songs, all the profits go to help him out and it's a good listen on top of that.
You can hear Andrew and I a few times during this recording. Andrews laugh is distinctively close and I yell out "Speeding Motorcycle" along with Daniel as he starts to sing it. The guy behind us is also all over the recording…sorry.
Daniel Johnston / Brett Hartenbach / Wooden Eye Live @ Rochester Opera House May 12th 2012
http://www.mediafire.com/?rkbmjy36dbd4h13
1) You've Got to Hide Your Love Away (Beatles Cover)
2) Life in Vain
3) Fake Records of Rock and Roll
4) Hey Joe
5) Fish
6) Speeding Motorcycle
7) Isolation (John Lennon Cover)
8) High Horse
9) Daniel's Dream
10) The Sun Shines Down on Me
11) Mountain Top
12) Rock 'n Roll / EGA
13) True Love Will Find You In The End