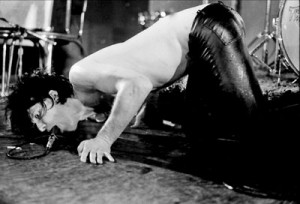 That's right. The Cramps are dead. Chalk 'em up on the board.
I only started listening to the Cramps a few years ago and Songs the Lord Taught us is still one of my most frequented albums…which judging by the most times I've played an album in the last 3 years, would make it in my top 10.  My favorite part of the Cramps are the songs they cover. They do some of the best covers of any band and they do a lot of them. If you haven't already tracked it down- get the 3 disc box set called Songs the Cramps Taught Us. It's a compilation of every known song the Cramps covered with everyone from Slim Harpo to Beefheart to the Sonics. They introduced me to a few bands and early 60s rocknrollas.
Here's a bootleg I got a while ago from someone in the blog universe, but I tried 2 links and they were both dead, my apologies if this was your original posting.
The Cramps Totally Destroy Seattle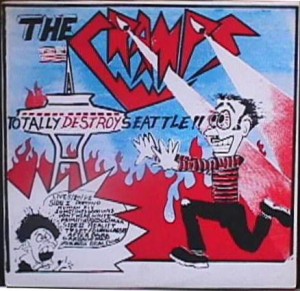 They cover "Sometimes Good Girls Don't Wear White" and add this line: "Sometimes good guys wear Ramones t-shirts…They can wear anything."