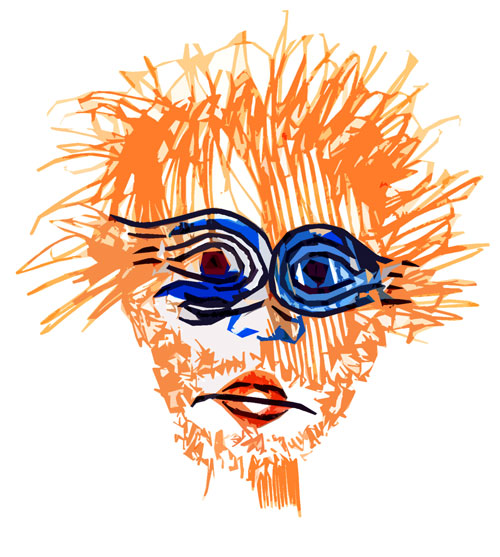 Wednesdays are good days. I get a lot done on Wednesdays. I sleep late because most times on Tuesdays, like yesterday, I work about 16 hours straight with a few slap myself or throw water in my face breaks and then get very drunk. So Wednesdays are thinking days. Rest days. I got a lot done today. I learned a lot today.
First I learned that Karma to Burn's album from earlier this year but that I just got, Appalachian Incantation/Cat Got Our Tongue Double CD, sucks. I've been trying very hard to like it. But it's no good. When John Garcia from Kyuss guest sings on a the first song on Cat, it's really good, but it's only one song and it just makes me want to listen to Kyuss, not the rest of the Karma album. So, to pump myself up for work and to try to not be cold since I don't have heat yet and it was 40 when I woke up, I put on Wild, Wonderful Purgatory and shook my hangover off to "Twenty." If you didn't know, "Twenty" is track 1 on Wild and one of the defining songs of my piece of shit life. I turn into a drummer when I listen to it.
Then I learned that AN INTRODUCTION TO… _____________ albums really blow. I got an e-mail from my friends, and I really mean that, at AMG with a list of new albums. This was one that got me mad: An Introduction to Syd Barrett, which came out a few weeks back from the fine fine mother fuckers over at EMI.
Whoever runs that cracker jack mill should be shot for allowing this to exist.
And whatever chimp they hired to pick out the tracklisting should be stoned to death.
And on top of all that, this fella with three names cus he thinks he's fuckin important, Stephen Thomas Erlewine, should be homeless. He wrote the All Music Review of this Introduction album. He can live, but he should not have a job and his kids, if he has any, should grow up on the street hungry. Harsh? Of course. Justified? You betcha.
Asshole:
There have been a number of Syd Barrett compilations but, remarkably, 2010's An Introduction to Syd Barrett is the first to combine Pink Floyd material with his solo recordings, so it truly provides an introduction in a way no previous collection has. It's possible to quibble that there are a few Floyd songs that should have made it here — mostly selections from The Piper at the Gates of Dawn, including "Astronomy Domine" and "Lucifer Sam," but this favors the non-LP early singles "Arnold Layne," "See Emily Play," and "Apples and Oranges," which do point the way toward such solo cuts as "Octopus," "Baby Lemonade," "Terrapin," "Gigolo Aunt," and "Effervescing Elephant," all present and accounted for here. Some may also quibble about inclusions of new mixes for "Here I Go," "Octopus," "She Took a Long Cool Look," "Dominoes," and "Matilda Mother," preferring the original mixes, but these new mixes don't call attention to themselves nor do they detract from the first disc to provide a strong, concise introduction to Barrett's twisted genius.
What a crock of shit. If the guy cared about Syd Barrett's music at all, he would refuse to write such tripe, but, as a hired pen, who the hell cares about such questions of oversaturation or gravestompin'. The album exists, the artwork is from that Brit fuck who did the one with the triangle and the rainbow, umm: 4.5 stars!!! and let's put some of those nice AMG checks next to a few songs I listened to once or twice and think are clever.
I get paid to write.
Here's what I would have written if conscripted to write a review of this album, or better yet, the liner notes:
Hello, interested listener. How's your old Jewish man impersonation? That good, eh? OK. Get it ready and use it to say aloud:
"You call this an introduction? I'll give you an introduction."
Now, in the spirit of madness, take this CD which you just bought and raise it above your head. If you are just reading this review to find out if you should buy this CD, grab any ole CD off that rack of yers that you know sucks but you've still got lying around (I'm lookin' at you Mars Volta). Raise it above your head and spike it into the ground. Make sure the case breaks, but more importantly, the CD breaks. You may have to repeat this several times. Then, piss on it. If you don't have to piss, spit on it or go to the store buy and drink a lot of Dr. Pepper, come home and piss on it. Once it's pissed on, get onto your bike, into your car, onto your subway or bus and go to the closest local music shoppe. Buy Piper at the Gates of Dawn, the 40th Anniversary edition is good. Then, run, bike, bus, subway as fast as you can to the nearest CD player and play it, loudly. You can also just download it easily. If you already own Piper, in digital, CD, LP, cassette form, then you definitely would not be reading this review right now because you would know this is bullshit. If you are like me and just like reading reviews, especially what AMG (who I normally respect very much) says, perhaps you gained some enjoyment out of this little story. If you followed my instructions for those of you who bought the CD, then you would not have gotten this far. I'm being pissed on right now.
In case you're still around, here's the tracklisting to the ONLY introduction to Syd Barrett:
1. Astronomy Domine
2. Lucifer Sam
3. Matilda Mother
4. Flaming
5. Pow R. Toc H.
6. Take Up Thy Stethoscope and Walk
7. Interstellar Overdrive
8. The Gnome
9. Chapter 24
10. Scarecrow
11. Bike
After repeated listens, decide if you want more. If you do, then I suggest you just jump right in the weird waters of Syd and listen to the everything Syd Barrett, in one day, with the lights out or with extra lamps so your room is super bright and effervesscent:
All his Pink Floyd oddities including Jugband Blues in particular, Madcap Laughs, Barrett, Opel, Peel Sessions and then sift thru the bullshit collections for any songs you can't find.
ENJOY!
OK. Who or why I'm giving this advice to, I have no idea? Are there people that are mulling around record stores or online lists of releases and see the title, An Introduction to Syd Barrett and say to themselves, 'Well, I think it is about time I tried out that Syd Barrett character.' If there are, this is for you. If not, oh well, sorry for preaching to you choir.
Other things I learned today:
Voting is stupid. Real A-mericans, to use the mostly ill-used majority argument, don't vote.
Kyuss is getting back together for some shows and that's awesome. Well Brant Bjork, Nick Oliveri and John Garcia, but not Josh Homme. But I'm OK with that. Josh Homme is a tool.
New strings on a bass feel good.
I enjoy writing for SWR and need to try and keep up with Tigs since he's doing a killer job.
It's good to be  older than 25. Cus I just rented a NISSAN SENTRA or SENTRY for my week in California next week and it was not that bad.
After realizing Karma to Burn's new album was not great and that Kyuss was getting back together, I listened to a lot of Kyuss.
I learned a major difference between a pretty good singing stoner rock band and a really fuckin killer one is lyrics after listening to Blues for the Red Sun. Sure, stone epiphanies are great and all, but to be able to bring them into songs is an artform. Check this:
you're burned by my lighter,
you've been burned by my lighter,
and my lighter is held down by my thumb
And the best on the album:
hooray, hooray for you
hooray, hooray for you
hooray, hooray for you
hooray, hooray for you
hooray, hooray for you
hooray, hooray for you