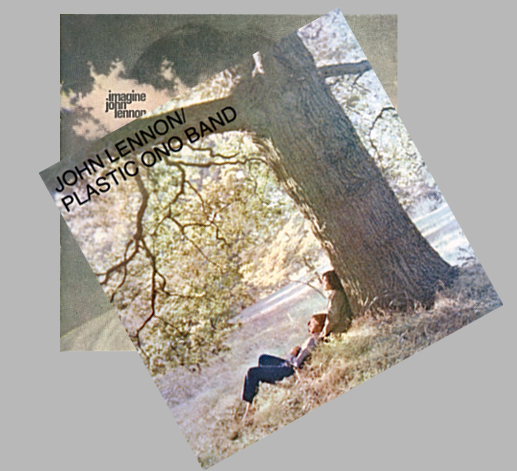 Driving back from Long Beach to the Bronx with Evelyn after we outsmarted the rain but could not outsmart traffic, I threw in an old burnt copy of Imagine Evelyn had in her CD book. Having avoided (or really, not accosted) by the overplayed song for what I believe to be years, I thoroughly enjoyed it.
It was refreshing to hear because it's still pretty radical. America is still afraid of most of the ideas in the song. Not much has changed. I thought about all the people that lay flowers at the IMAGINE bricks in Central Park and how many of them are probably religion-loving, country-loving, self-absorbed A-mericans who probably don't buy into a lot of what Lennon was yawping about. So the first track finished, and I felt good. Peace on earth. Fuck your silly systemized shit, do your own thing, yea. Nine songs later, I turned to Evelyn and said, "This album fucking sucks."
And it does. While the first song's ideas and critiques have stood up, the sound of the album is dated, Lennon sounds like he doesn't give a shit and I have no idea why it's hearalded as so amazing. Its basically a great single with nine filler B-sides of half-songs played too long and bitter, bitter attacks at old bandmates. The vocals sound like trash, the drums sound like disco and by the time you get to "Oh Yoko!" you start to seriously consider defending Mark David Chapman. Outside of "Imagine," the album lacks truth. Gimme some goddamn truth Lennon!
Fortunately, Evelyn also had a burnt copy of John Lennon/Plastic Ono Band, the previous year's effort, and we were stuck in the rain in traffic in Queens still, so we threw it on. I always knew it was better, so I wanted to see why.
The albums open in very similar ways, "Mother," though it has a horrid popping drum sound (I find this is a flaw with all Lennon solo stuff) is somber like "Imagine" with a great setting of the table for the rest of the album. But by the end of "Mother," Lennon is building himself into a frenzy. He never does this on any song on Imagine and if he does, it's not heartfelt, its bitter.
Even though the second tune made me immediately question the betterness of the album, Lennon's "COOKIE!" saved the drub dribbing of the rest of the song. "I Found Out" launches the song into outer space, with every song sounding better than the last. Lennon sounds like he's hanging on by a thread, in terms of a mental state. I put "Working Class Hero" and "Isolation" up there with any of the good later crazed Be-ate-les tunes. The peak is unquestionably "Well, well, well," my favorite and your favorite and if you question it, listen again. His voice, which I always thought was pretty damn good anyway, is especially haunting. I always say the only criteria I have for judging pipes is if I believe there's a real person behind them. I believe him. I don't have to imagine it.
After "Well, well, well," the album sort of tumbles to the end, but in a good way.
"God" is a way of addressing the obvious past of being a Beatle, while looking forward without being a bitch about it (Like on Imagine's "How Do you Sleep?").
The last two tracks are weird, meaningful ("Power to the People" and, lastly, fun as fuck. When "Do the Oz" squeals out the album with Lennon seizuring (as I imagine him to be), I said to Evelyn, "What a great fucking album."
John Lennon/Plastic Ono Band is an album with a solid core and enough freak flag waving to believe Lennon was still into pushing music to new places. Imagine is not.