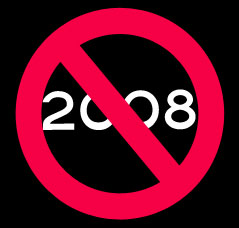 I've spent the last 2 weeks catching up with all the releases of this past year. The plan was to write a one sentence album review for all the albums I listened to. I did some of them. They aren't good. I like to ramble too much for the art of simplicity. As I compiled my list, I started to put them in 2 categories: albums that will survive in my life in 2009 and albums that are dead (I do believe in zombies, remember). The list was lopsided. Of the albums I took seriously- it was 4 alive, 25 dead and one dead unborn baby in limbo.
The living:
-Jay Reatard's Matador singles collection
-BORIS- SMiLE
-King Khan and the Shrines- the Supreme Genius of King Khan and the Shrines (a greatest hits, are you kidding, adam!?)
-Witch- Paralyzed
The dead:
Alejandro Escovedo, Breeders, Duke Spirit, Frank Black, Eagles of Death Metal, Black Keys, REM, Mudhoney, Dillinger Four, TV on the Radio, Neil Young, Deerhunter, Islands, Pink, Vampire Weekend, Mariah Carey and so many more….
Purgatory:
The Vivian Girls
And the shows were great. I saw a lot of awesome shows this year. Monotonix, King Khan & BBQ, King Khan and the Shrines, the Black Lips, Vaselines, BORIS, Radiohead, and Daniel Johnston!!! I've got nothing much else to say, except that 2009 looks good. (They always look good from December) My basis for this prediction is what I am about to proclaim as the best single of 2008: "Psychopathy Red" by Slayer. In my search I realized this is the best release of 2008 and its a leak not due on an album til next summer. 2 minutes 31 seconds and its better than any album I listened to this year. (Half Japanese live at SXSW was great, too- though just a bootleg- 2nd place!).
Here's the link:
THE BEST RELEASE OF 2008: "Psychopathy Red"