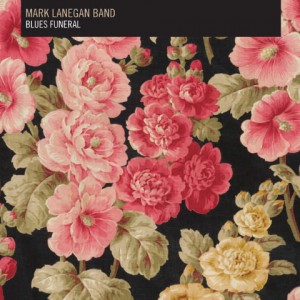 Mark Lanegan Band – Blues Funeral (4AD)
Another year, another Mark Lanegan-asociated album with another terrible title and album cover. I'm excited. I really am. I read at Stereogum and somewhere else its his best in years. Best probably since Whiskey for the Holy Ghost because, let's not mess around, that was his best title and album cover of all time. And don't forget the songs. Drenched in misery, full of bite and guitarwork that was even interesting at times. Those songs really kicked you in the gut. Arguably his best post-Screaming Trees record.
Sad as it is, some of his best stuff since has come when the frat boys in Queens of the Stone Age (not you Nick) drag him out like the gimp from Pulp Fiction, let him sing a song or two, then chain him back up backstage to chainsmoke and drink bourbon. Laying aside his forgettable albums, let's sink our teeth into this new one, Blues Funeral.
I don't think he's signaling the death of blues, at least I hope not because we all know if there was a date for that, it was around 1982 when Lightning Hopkins was laid to rest and a guy named Stevie Ray Vaughn started to make a name for himself.
Maybe Lanegan means a funeral to his sadness. It seems that way at times, but as happy and upbeat as he could ever try to be, he's a depressing dude. The first four tracks "The Gravedigger's Song," "Bleeding Muddy Water," "Gray Goes Black," "St. Louis Elegy") are damned depressing despite his attempts to liven them up a bit with techno beats.
Blues Funeral could mean killing blues with techno beats. "Riot in My House Hits" does sound like a Jock Jams version of a Screaming Trees song and I can think of no better way to murder blues than that. But really, aside from the sentiment, blues is absent on Blues Funeral. The songs are a mishmosh of acoustic ballads, ("Deep Black Vanishing Train") synth rockers ("Quiver Syndrome") and a bunch of atmospheric, trying to be creepy slow burners, ("St. Louis Elegy," "Phantasmagoria Blues").
His voice saves this album if there is saving. It saves the textbook lyrics and the sometimes uninteresting techno/guitar drone music scapes. "Bleeding Muddy Water," begins like Chinese water torture with a slow, too perfect mmm cha snare kickdrum mmm cha snare kickdrum. It almost hurts. The weird guitar effects sound a little bit like depressed whales talking to each other about how depressed they are, because, well, maybe they are bleeding in muddy water. His voice, though, goddamn.
You may not think it's anything that special, but he succeeds because of the way he can twist a phrase. Forgive the terrible idiom, but listening to him sing "Oh baby, don't feel so bad" over and over on "Bleeding Muddy Water" is addicting. The problem is, if I listened to this record sans vocals, I would never get through it, it's so boring.
Mark Lanegan is an attractive, tall, large-breasted, brainless, blonde woman who has only gotten to where she's gotten because of her looks. For him, his voice. I'll give it a chance any day. In a music world where above average bands with crappy vocalists are plentiful, I'll always take the average band with the vocalist that can still make the hair on the back of my neck stand up.
Compared to Chris Cornell's work with Timbaland – which seems to be a fair comparison given they're both grunge-era gods strutting their best stuff over electronic music – this is more interesting and satisfying, but fails in much the same way: you can't get by on just your voice, baby.