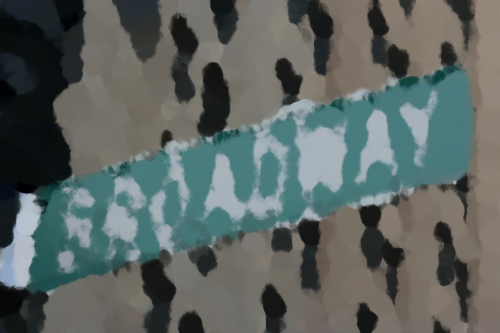 I actually did it, which is far more than I thought I could do. In my mind, from the car ride there to weeks before, I was going to skate for like 10 blocks and then just say fuck it and either end all together or just take a different road down. But I took it slow, and had my helmet and pads on, which is probably why it wasn't scary or bad. In fact traffic was rarely a problem.
At about 1 PM I finally arrived at the spot. I was pretty terrified to start skating down Broadway but I figured what the hell, I didn't have anything else to do and the Devils didn't play till 7. And I could always bail and tell everyone that I went the entire route. The traffic wasn't too terrible, it just takes a little getting used to weaving in between parked cars and making sure that you're on the side of the road closest to the metered parking as you can be. Double parked cars are you enemy, but usually they're maneuverable unless they decide to pull out as your rolling past. After getting the hang of it a few other longboarders showed up. We talked for a bit, they were on their way to 59th street for a practice session with a whole bunch of other skaters. While this did sound tempting I had a single mission in mind. I rode with them for about 3 blocks before they took off. It's not like I wasn't trying to keep up with them, it's just that I was slow as fuck compared to them. Oh well, I wasn't going to be going with them the whole time anyway. They were much more comfortable (I guess?) skating in traffic. I was one to stop at a light and check for cars, they would barrel through the lights and take their chances. They were very nice people, but I was glad to see them go. This was between me and Broadway. Actually I don't think Broadway cared one way or the other, but my mind was set.
There would be more longboarders along the way, people who were also making the run down Broadway. We'd shout to each other, "see you next week!" or something equally unimagined. But we were dodging traffic, at least I was, and didn't have time to think of great witty responses. But to be honest the traffic isn't the problem. It's the pedestrians who don't care what there is someone on a longboard, or anything, coming down the road. So much so that they slow down when they are actually in your line. I finally understood the annoyances that those asshole bikers feel. Maybe they're not such assholes after all. (Yes they are)
From 116th till about 51st street the trip isn't all that terrible, it's a nice glide for the most part with only a little uphill action and just a few drops to keep things interesting. Actually, there is one really bad turn around 59th street where Broadway veers left and every cab in the city seems to be driving next to you trying to hit you. 51st street to 41st street is complete and utter insanity, as Times Square tends to be at all points of the day. A sea of people in front of you with no real direction. It is impossible to skate through this all, but I think I was no longer on Broadway at this point. Broadway is a tricky fuck, and there are a few sections that if you're not paying attention you'll be off the your desired path. And while usually Broadway is only 1 or 2 blocks over from where you are, it is still a confusing predicament to be in. After that tourist trap the ride becomes pretty easy for a bit. I met up with Kat at 23rd street for a quick bite and a much needed drink before heading back on my journey towards Wall Street.
Past 10th street is where it starts to get a little hairy again, just jam packed with cars making it difficult to traverse around the street. I'm pretty sure I heard people on the side walk mocking me for riding in the street. I guess they wanted me to ride on the sidewalk with them, annoying both of us in the process. At Houston there was a traffic jam for the rest of the journey (as well as a bit of an uphill trek), so it was slower that I was hoping it to be, but it doesn't matter. In the end I feel like I've accomplished something, not something that many people want to accomplish but something non the less. And I was actually outside for a few hours of the day.