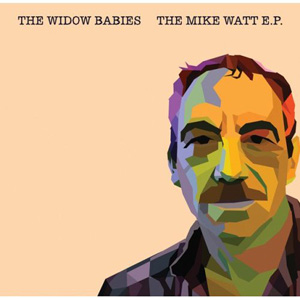 What!? So I was listening to the Watt from Pedro Show from October 19th today, catching up. I usually listen to them on my one day off from work during the week. If you don't know what it is, it's a 3 hour somewhat weekly podcast by Mike Watt and friends. If you don't know who Mike Watt is bash your head against the wall then go to here and be enlightened. He always starts with Coltrane and then plays anything and everything from BORIS to Bukowski.
October 19th, he played an entire EP by a small LA band called the Widow Babies. The title: The Mike Watt E.P. Then I find out they play shows with Dos (his bass duo with flag's Kira) and then I found out he comments on their myspace. Jealous? Yes!
So I listened to it three times today and Evelyn was going to kill me. She can't stand the lead singer's voice. It took me some time, but I'm digging her style and everything about this album. The music is awesome, the lyrics are crazy and its a concept album that has Mike Watt and a Vampire Abe Lincoln battling for the town of, you guessed it, San Pedro. I guess I have a thing for any monster rock, but this is even better because it's got Watt.
The entire EP is on their myspace, so go listen to it now.
And even better, listen to what Mike has to say about it and his buddy reading all the lyrics to the EP on the radio show.
Here's a teaser for ya.
First line of the EP:
Mike Watt created the Universe with a Bass Solo
Last lines of the EP:
Here stands a river, forged in the fiery kingdom of bass
Lincoln has succumbed and will exist eternally in the form and rhythm of a wild tide
Such is the fate of all those who oppose the primordial essence of Watt
Sing out my brothers and rejoice in his glory.

Much Respect.
Podcast: Play in new window | Download | Embed