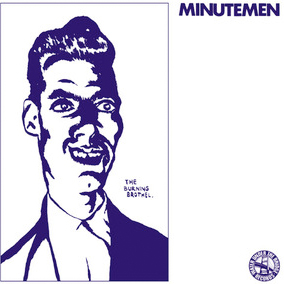 Minutemen/Saccharine Trust split 7-inch
2011 Water Under the Bridge Records (San Pedro, CA)
I thought I had the Minutemen cornered. I've got all their records, singles, lots of cruddy bootlegs, the We Jam Econo DVD. I know the Meltzer Minutemen scribblings. I know the Charles Plymell We Jam Econo masterful wonderpiece. I follow Mike Watt shit to this day, even though it's hard to catch up. I just ordered Spielgusher and his album with Stave Mackay is on its way. But I have nothing cornered. I should know better! Cornering the Minutemen!? Figuring out the Minutemen!? How goddamn foolish of me. I missed three songs: "9:30 may 2," "clocks" and "prelude," the first recorded for the New Alliance Records Compilation Cracks in the Sidewalk comp from 1980, the second from the New Alliance Records Compilation Chunks comp from 1981 and the third, a bet-your-fucking-fine-ass Tyrannosaurus Rex (before they had bass and a boa and called umselves T.Rex) cover from the New Underground Records Life is Beautiful So Why Not Eat Health Foods? comp from 1983, released in a brand spankin new 2011 Raymond Pettibon blessed purple and white 7-incher. Wow. Swallow that.
So I missed the first Minutemen release since 1987 (I'm counting Ballot Result cus it has the best version of one of the best Minutemen songs of all time on it: "Little Man With a Gun In His Hand").
And I bet I missed a hell of a lot more. And I bet even more lost songs are out there sitting out there on dusty shelves collecting no dust (because its the goddamn MinuteMEN).
The 7-inch is masterful and short and over before you know it. You can listen to the Minutemen side four times by the time you've read to this part of this bullshit post. Only the first track has lyrics, the other two are instrumentals, the second, as said earlier, was written by Marc Bolan and its the first track off 1970s' A Beard of Stars.
"9:30 may 2" has good, there's no other kind, Watt lyrics:  (listen here)
merv griffin said
"that in the heart of italy
the people there are probably
the least religious in the world"
then sophia loren said
"I don't know about that"
"what does america mean to you?"
"america means everything to me"
In 2005, a guy named Derek reached out on a thread at ilxor to figure out the lyrics. He ended up e-mailing Watt and Watt wrote back the lyrics and said this below it:
I hope this helps. it's actually what I heard on that date when
watching the merv griffin show. I can't believe I was watching that but even
more amazed at the stupid shit coming out of merv's mouth.
on bass, watt
I've listened to the 7-inch about 15 times now, and I can't for the death of me think of what the second song is all about or sounds like. Ah, here she comes. Chaotic instrumental with the patented Minutemen start stops, bass solo, guitar chimes in. Not sure if it was recorded before or after The Punch Line, but its one of the earliest in the Minutemen cannon and a really great song that makes you want to wave your arms around like a madman conductor.
The last song, "Prelude," is a beautiful cover of this song, Minutemenized. CCR can be punk rock. Tyrannosaurus Rex can be punk rock, too. The Saccharine Trust side has three songs from earlys 80s comps as well. Watt plays acoustic guitar on the madness spoken word slugfest "A Christmas Cry."
So bow to your trees
and give thanks,
for you have not yet felt
the wrath of God.