A Lazy Introduction to My fIREHOSE Project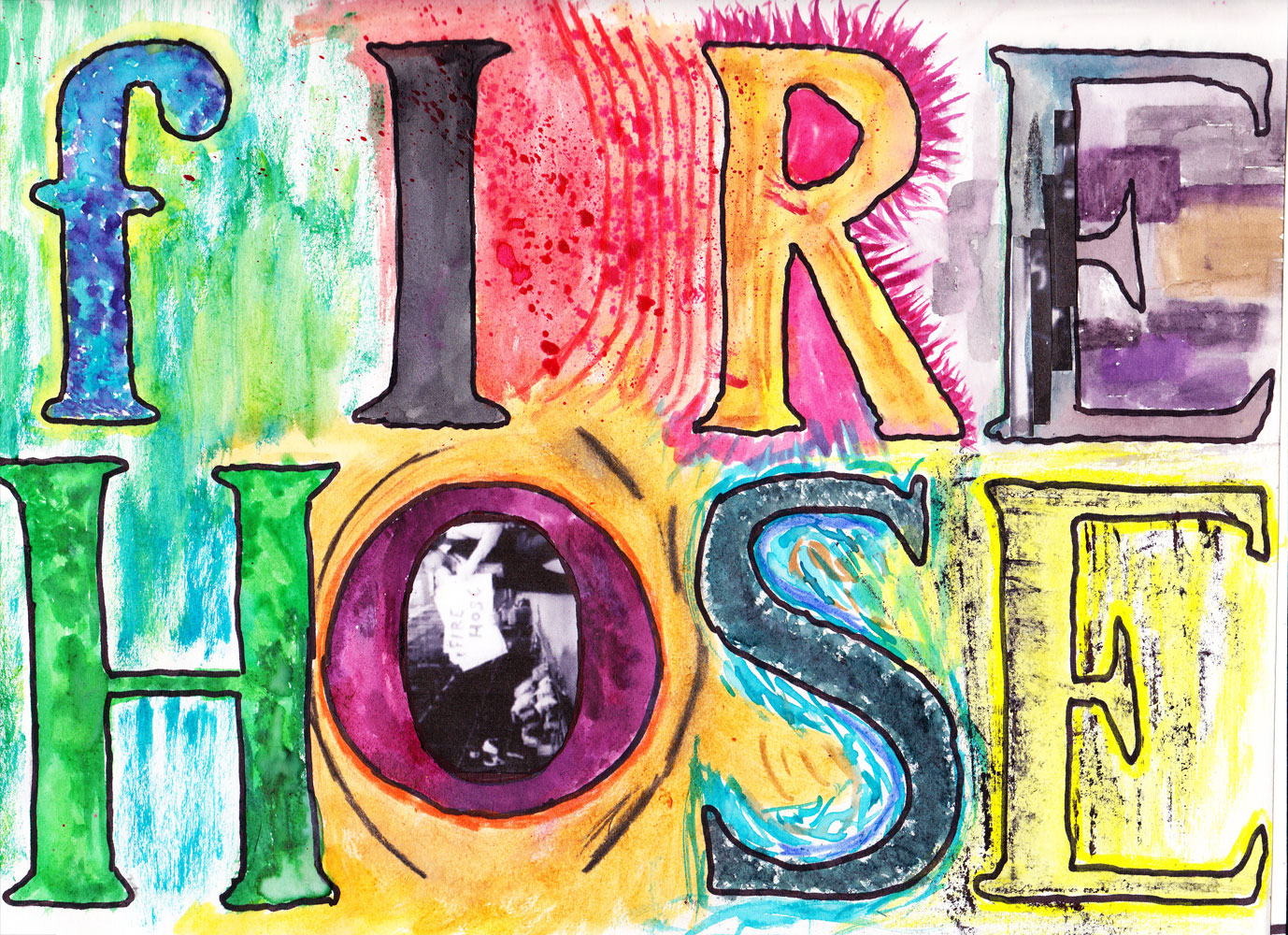 I've got a credit card bill on my desk flipped over with ONLY FIREHOSE written in big black letters. It's there to force me to listen to fIREHOSE instead of immediately turning to the Minutemen's What Makes a Man Start Fires? or Double Nickels for my Mike Watt fix. The note is the result of a talk I had with my cousin-in-law. After telling him my favorite band, the Minutemen, he surprised me and said he always leaned toward the fIREHOSE side. The fIREHOSE side? I never knew there was a fIREHOSE side. I assumed every intelligent music listener was in love with the Minutemen and fIREHOSE was just the other band Watt and Hurley did after D. Boon was killed in a car accident in 1985. I had no response. I had never given fIREHOSE their due. I still thought he was crazy, but I had to give 'em a legitimate shot. So I wrote the note and left it on my desk. It worked. The note's been impossible to avoid. It travels around my desk area, inescapable. Right now it's on the floor next to my new wiffle ball bat and my old 1 wood Golden Bear golf club I keep close by in case I need to fight off the fascists in my neighborhood. The note is my scarlet A, but dammit, it worked. The last month or so, half of my listening has been dedicated to the 5 righteous fIREHOSE albums. This is what I found out.
fIREHOSE is the dream realized. The Minutemen may not have wanted to sell a million copies of their records and become big rock stars, but they did want to reach as many open minded folks as possible. The Project Mersh EP and 3 Way Tie (For Last) LP poke fun at making commercial records with verses and choruses and fade outs, but it's still the Minutemen doing exactly that and doing it well. And it's not exactly commercial if you compare it to what was selling in the early 80s. They were givin' it a try, but I don't think they would have ever gotten the Warner Brothers Husker deal of 86 or the 91 Columbia deal fIREHOSE eventually earned. They weren't made for the big guys. They just wanted to see if they could do it. It's not sell out because they were singing about selling out and titling it that.
fIREHOSE weren't sell out either. They were nicer. They still waved a freak flag, to use Watt-spiel, but they were able to drag in a bigger audience with poppier singles like the wonderful "Sometimes," which may or may not have been one of their only actual singles before Columbia was their daddy. Songs like this walk the fine line between playing the basement and playing upstairs. It's in the middle of the staircase, but it's never uncomfortable. The Minutemen were always in the basement, just they were so fucking loud people upstairs heard em. AND they were louder because half the kids downstairs weren't screaming for 'em, they were waiting for Black Flag. fIREHOSE sat on the staircase so Minutemen addicts downstairs wouldn't be upset and the guys upstairs could get a better listen. In other words, fIREHOSE was more successful because words like success are only used by people upstairs and they were in on the action.
The spirit of the Minutemen is there. Double Nickels is the extreme example of how much those guys did not give a shit about conventions. You've got acoustic instrumentals next to bongo rants next to live CCR covers next to punk rock anthems. So in fIREHOSE when you get a Hurley drum song next to an acoustic Ed Crawford folk drinking ballad next to a funky bass driven song with Mike Watt reading his stream-beat poetry you don't question it. It's chaotic, but it never gets boring. That's the appeal of the Minutemen to me and also the reason why many people can't get Double Nickels and why they might not like a fIREHOSE album. Even mid-song transitions that wander into new directions and never return is Minutemen philosophy. What's nice about fIREHOSE is you get to soak it in a little more. It's not gone before it gets going. That's not a bash at the Minutemen, it's just a common complaint. fIREHOSE are the epic alternative to the Minutemen. So why are most Minutemen fans, my past self included, reluctant to give fIREHOSE a shot. Here's a comment from the YouTube "Down With the Bass" video.
iburl (3 months ago):
Some Minutemen fans always are harsh on Ed. It's a shame…Ed was a great singer and player. He ruled, and I wish fIREHOSE were still around. Who the hell else should they have played with? Ronnie James Dio?
Well said. If you know the story, you can't knock Watt and Hurley for getting a new singer and trucking on. It's even wrong to say they got a new singer because as we all know Ed got them. He was 21 year old kid in Ohio and heard a rumor Watt and Hurley were auditioning new singers which wasn't the case because Watt says he didn't even pick up a bass let alone think about replacing his best friend D. Boon. I can see this dude packing his car up in Ohio and driving straight to Pedro like a madman listenin to the same CCR Greatest Hits tape. Instead of going to see the ocean for the first time in his life, he knocks on Watt's door. I see Watt opening the door and this dude doesn't even say, Hey Watt! or sorry bout D., he just jumps into it. "Let's start a band! Right now, man!" AND Watt, heavy eyed and deflated and beaten looks at this kid and says, "Are you real, man?" Ragin Full On was released 9 months later. You can see this as sleeping with yer dead buddies wife while he's still warm in the ground, but you can also see this as a victory for the music world because it got Watt and Hurley playing again. Watt is more popular than ever now. We can thank Ed for that. Who knows what Watt would have done if this dude from Ohio didn't come knocking. He may have never recorded music ever again. He may have ended up workin the line in Pedro.
Now, the name. You probably know the band name is from a video of Dylan's "Subterranean Homesick Blues" and he's holding up cue cards with phrases on 'em. Here's the list of cue cards:
basement
medicine
pavement
government
trench coat
laid off
bad cough
paid off
kid
did
when
again
alley way
new friend
coon-skin cap
big pen
twenty dollar bills
ten
fleet foot
black soot
heat put
bed but
anyway
many say
must bust
D. A.
Look out
It Don't matter
tip toes
No Dose
those
fire hose
clean nose
plain clothes
wind blows
get well
it's hard
write braille
get jailed
fail
watch it!
here they come!
users
cheaters
theaters
whirlpool
new fool
leaders? ? ?
pawking meters
get born
Short pants- romance
get blessed
suckcess
Please her, please him
don't lift
day shift
dig yourself
hid
man whole
scandals
bum
chew gum, no
the vandals took all the handles
what?

So I liked the idea of writing about fIREHOSE without talking about the Minutemen, but it's impossible. fIREHOSE deserves to be talked about as their own band, but my obsession with the Minutemen doesn't allow me to do this. They shouldn't be thought of as an aftertaste. They should be thought of as a unique band, but I think it'll be better to use the Minutemen as a launch pad. And so begins my project to write on each of the fIREHOSE albums in chronological order. I'll work on my brevity, my enemy.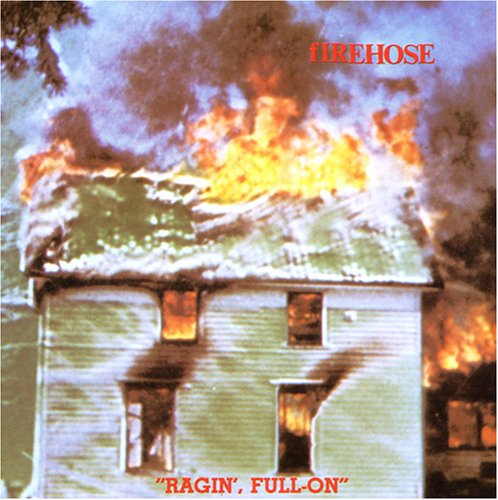 Ragin' Full On
Ragin' Full On is one of the most paranoid albums of the 80s. In that weird time, mainstream was cover up (as it usually is) and the underground was seething. To make an album that is so confident musically and heartfelt lyrically is an achievement. Sometimes the lyrics are so sad its uncomfortable. This balance of presenting art completely open and unstable with over-the-top-confidence is something that only best writers can pull off. They started from scratch and nine fucking months after Watt and Hurley met this fucko from Ohio, they had an album out and were touring it. That's the best part. They wasted no time after D. Boon's death and the death of the greatest power trio of all time. They mourned in these songs, yet its hard to even hear them mourning.
"Brave Captain" opens the album and sets the tone for the album. This album ain't gonna cry about D. Boon, it's gonna honor him by kickin' ass. Facing the problem head on. The lyrics are nervous as hell. It's 2/3 of the greatest punk band of all time and 1/3 this dude from Ohio no ones ever heard of. "There are doubts in your ability. There's too many blanks in your analogies." There doubt surrounding Ed as the new frontman and guitarist. There's doubt about Hurley and Watt in a new band. The song doesn't exactly solve this problem, but it definitely doesn't make you want to turn the record off. It's one of the more interesting choruses in all of fIREHOSE.
The following song is a 2 minute Mike Watt bass driven jam called "Under the Influence of Meat Puppets." Ed plays a D. Boon riff timidly and the song is a dance song because Hurley makes it one. At the end, Ed talks about the uncertainty of the future and ends with the line "We want to make plans, but to make another mistake? So difficult we care enough to try. So crazy, so we sit and wonder…" Still unsure and look at the title. The second song on the first album for this band and it's about playing like another band, the Meat Puppets. Weird start.
Lots of critics have written about Ragin Full On, fIREHOSE's debut, as a completely different sound than the Minutemen. That ain't true. It's following through with what the Minutemen were doing on their last record, 3 Way Tie For Last. "Price of Paradise" and "Courage" could be on Ragin'.
fIREHOSE carries on Watt-spiel. It's different with Crawford singing it because he can actually sing. When Ed starts singing, actually singing better than Watt or Boon ever did in the Minutemen, it's great because he's still singing these weird ass lyrics about relating dudes to jazz and chemical wires. It's odd for someone to sing these beat stream of conscious lines instead of spewing them. He's not spurting out the words like D. Boon. He take his time and bellows. So when the lyrics are
I'm the paint on the road
the weight of your load
with the cracked glass ground
fuck it!
an itch in your brain
in the drain shootin' rain
I'm the flame from the train
I've been smeltin' rail
flood from the fire
a hot tub cool
mire
ticket to fly her? NO
then blaze chemical wire
blazin' chemical wire
it's hard not to laugh out loud. Here's a guy, EdfromOHIO, who has a really great voice with a style that 6 years later every alternative rock singer on the planet had singing Mike Watt's weird ass lyrics about chemical wires. What a trip. Fucking Amazing.
My minutemen obsession has caused me to grab what's good in a song and sink into it, then next song. More than any other band on the planet, the Minutemen understood that the majority of pop/rock songs produced make one point and play it over and over or set up for one big shining moment. Instead of repeating this point or hammering this moment over 3 or 4 minutes, the Minutemen do it for :48 seconds and move on. I can't think this way when it comes to fIREHOSE. As much as people think they are walkin' the line more than the Minutemen with verses and choruses, I'd say half the songs on Ragin' don't fit that formula at all. Some songs are structured more like classical or jazz with codas and sometimes codas on top of codas. Yea, they have choruses, but with more time they have more weirdness.
"On Your Knees" would have been 2 different Minutemen songs – the first the slow angry chug of the first 1:45 and the 2nd the completely different ending from 1:45 to 2:19. "Perfect Pairs" is 2 Minutemen songs. It goes back and forth for 2 minutes.
The cover of 3-Way Tie has each of the guys heads mounted on a wall with a label. D. Boon's reads Singer/Activist.  Mike Watt – Anti-War Sympathizer, Hurley- Dude/Local 357. If forced to give Ed a label, I'd give him Singer/Romantic. And this is what makes fIREHOSE fIREHOSE. While I'd argue the songwriting, talking mostly lyrics here, of the Minutemen is about immediacy in the moment spiel. fIREHOSE is more about reflection and wonder and the past and the future. On Ragin', the obvious reason is D. Boon's death, but just as much it's Ed. He's a romantic wonderer. On slow songs like "This…" and "Things Could Turn Around," Ed sounds like a father singing to his newborn son to ease his pain. If D. was for starting revolutions and changing shit, Ed was for easin the pain while the shit's goin on. Comforting your soul in the shit.
The best song on Ragin is track 13, "Relatin' Dudes to Jazz." There aren't many albums in the history of albums where that's the case. I think its the best song because it's the song on the album that Watt's crazy story about talkin about jazz in New Haven or something is the most together for the trio. Ed has his own version of a punk spew down pat (something that is essential to the future fIREHOSE sound) while still letting loose and bellowing. In the second half, the guitar and bass and drums all have a few seconds to shine, interweaving just enough and then finishing. Without wallowing.

Check the name of the band in this MTV video. Fuckin' MTV.
-ADAM
And no, I'm not exhausted with this. This is just the beginning. More art and If'n to come.