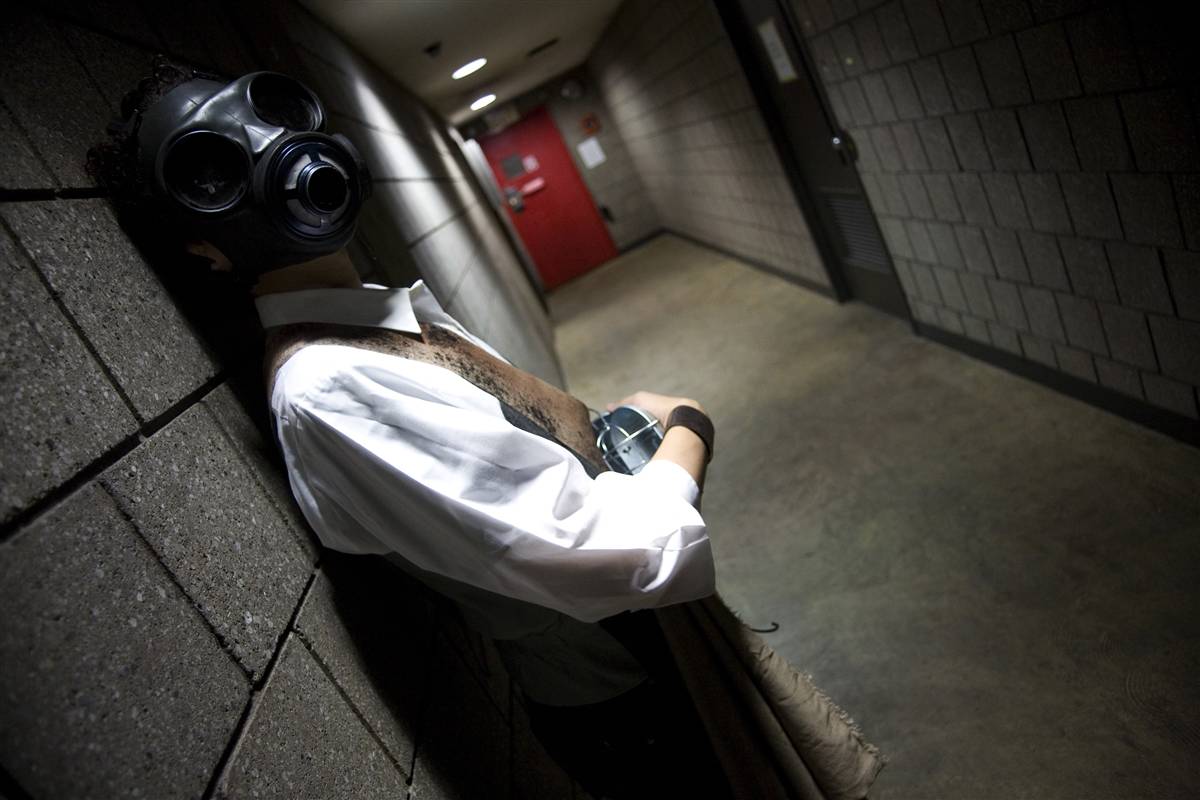 Yes, I actually went out into the world for once on a weekend and wasn't content to just sit inside and play video games and watch movies with Kathryn, we did all that before and after we went out. I guess an early start is the key. So after a few hours of Kirby (write up coming soon) and a little football we were ready to hit up Third Rail Projects' Steampunk Haunted House at the Abrons Art Center. By ready I mean I was scared shitless and trying to think of any reason possible to not go. Kat, on the other hand couldn't wait which made me feel weak and inadequate, both true characteristics of myself I try NOT to realize all the time. My fears were put to rest when I discovered a great review of the Steampunk Haunted house (and a few others) on the much more eloquent and interesting (and popular, though we at SWR are as popular as we were in 5th grade, which is to say not at all and made fun of constantly) The Jaded Viewer web blog.
This was my first Haunted House in a long time, maybe back in High School was the last time I had gone to one, a single floor show that was more of a Haunted Tent than a Haunted House, but why be fickle. Even back then I'd be more inclined to go on a haunted hay ride, you know, so I didn't have to move at all and could just watch the whole experience like a horror movie.
The Steampunk Haunted House was a very elegant show, an interactive play sort of…only you don't have anything to do with the story. You are allowed the privilege of watching it all happen, well not all of it. There is too much going on to see everything. While there are only a few set pieces, the players move throughout the space constantly.
This particular haunted house isn't exactly scare you out of your pants frightening the whole time, but it does have its moments, and I don't feel like they wanted you to be wetting yourself. It is a highly stylized, beautifully terrifying experience. Some of the players are locked into their roles, and some of them are always walking around, looking at you as though you are an intruder into their space. Sometimes you'll turn around to see a man in a gas mask following ever so closely behind you. And when that happened all I could do was laugh and walk even faster. It's not that I found it funny, or am so desensitized that I found it funny, but my mind went straight past "you should scream right now because you're so terrified" to "you're so terrified right now but you know it's going to be fine, so just have fun with it." And that's really the experience I was looking for. I read, also on the Jaded Viewer, about The Vortex Haunted House, which I don't think I have the stomach or balls for, and lucky for me I don't have to worry because that house closed its doors for the season as of 3am. Two of the others, Blood Manor and Nightmare: Superstitions, Kat and I are going to try and catch before they're gone for the season as well. Blood Manor ends this coming Saturday, and Nightmare in two weeks. Maybe it'll be less crowded after the passing of Halloween but I won't hold out too much hope for no lines. From my initial reaction of bitter and frightened noncompliance, I'm now excited (in theory) for the next few houses. That is, until we're about to leave for them. At which point I'll be clawing my way back inside to safety.