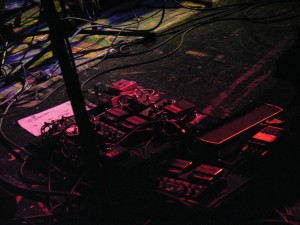 Sometimes when I'm band hunting, I'll have a few myspace pages up and I toggle their off/ on buttons along with starting/stopping my music player playing the album I'm currently hooked on. Lately: Pink Flag, Repeater, anything and always Love, and the new old classic Death- For The Whole World To See. I have to listen to music all the time because I've developed a condition where lack of noise causes my ears to ring and the ringing builds so much I get a headache. My head's like an amp with a superfuzzedbigmuffed guitar standing up against it building noise. I'm afraid if I don't block it out, my head will blow up.
So there it is. I tire of music very easily and so I listen to a lot of new bands, and also, its my job as an intern to find/listen to/go see/dissect new bands and write about them. its a sad, but sadly one of the only, ways in. And I want to be in. So I've started listening to Nouns by No Age which came out last year. They are 2 guys from, not LA anymore, Brooklyn. They came here because of: a. the scene b. the snow c. they are stupid or d. to get closer to their obvious GOD Thurston Moore. I hope it's to infiltrate and tear down a., which would mean they have to be the opposite of c. and this can be done in any weather, so back off b. (d was added afterwards when I realized I'm writing about a NYC noise rock band and didn't mention anything SONIC YOUTH)
Needless to say, with all these myspace pages playing their hearts out, as well as my own music playing from the computer, sometimes two bands play at once and sometimes I don't even notice for a while. Sometimes, it sounds good, and I'll think, WOW! listening to this band must have been what it was like first listening to Captain Beefheart, though its never very very good, only good because its weird. So when I figure out its 2 bands and not 1 and both bands suck even more individually.
This is not the case with No Age. While listening to Nouns recently, I have THREE TIMES pressed the pause button on the record just to make sure all the music coming out of the computer is them.  There's a lot going on and my brain cant get it all…so I press stop and all the sound stops. they sound like 2 bands at once, or more importantly, they make more noise with 2 guys than any 2 man band that doesn't start with lightning and ending in bolt. So the first thing I thought was, overdubbing? I watched a couple videos and, even though they probably do overdub for their record, they can still make a lot of noise for 2 guys, or, gods, or better yet, noise gods. Yes, they have a lot of help from a lot of pedals, see above, but at least the input energy seems about equal to the output energy. And behind it all, the songs are good. They'd probably all still be good on acoustic guitars, though, for my condition, I like the fuzz.