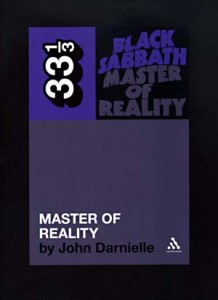 BOOK REVIEW
Master of Reality by John Darnielle 2008 Continuum Publishing 33 1/3 Series #56
Since 2003, Continuum Books have been releasing a music series called 33 1/3.  Each book focuses on one single album released in the past 50 years or so.  There aren't many rules for how the writer handles the album, other than the length: about 100 pages of 7 by 4 inch paper.  So far, I have read about ten in the series.  Each has been interesting enough to keep my attention for a round trip bus ride across the Bronx to work, about two hours. 
What's the problem, then?  They read like drawn out album reviews.  Some use a lot of quotes from the band members and friends and managers and girlfriends.  Some dribble on about its importance in the evolution of rock music or even worse, the importance of the album in the band's extensive catalog.  They are littered with adjectives, the most unholy of all being the most dangerous word a reviewer can ever utter: "greatest."  
I may sound harsh, but let me explain myself.  If I had been asked one week ago to write a review of every 33 1/3 book I've read so far, I probably would have given them all above average reviews.  Not the case any more.  I just read John Darnielle's Master of Reality and now all I have to say is: Why the hell can't they all do it this way?
The way I am referring to is not only fiction, but guts.  I understand it is interesting to dissect an album scientifically, (Dai Griffiths' OK Computer) culturally, (John Dougan's The Who Sell Out) or sonically, song by song, (Michael T. Fornier's Double Nickels on the Dime and many more) but what really matters is how the album makes the listener feel.  Does the album have any guts?  If it does, can the writing even attempt to match that?  This one does.  Darnielle writes his 33 1/3 book about Black Sabbath's 1971 sludge metal masterpiece Master of Reality through the story of a 16 year old boy named Roger who is sent to a mental institution in 1985.  It's Sabbath fiction. The entire book is written through Roger's journal entries he is forced to write as well as a series of letters from later in life.  
From the start, you know this isn't your typical album review.  Instead of starting the book with a line like: "Tony, John, Bill and Terence started playing together in a Birmingham garage back in the brisk spring of 1968," this book starts with diary entry #1: "FUCK YOU ALL GO TO HELL."  Perfect.
 As unconventional as it may already seem, the book works.  Not only did it urge me to look at Master of Reality closer (I've always liked Vol. 4 the best), it made me look at Sabbath in an entirely different way.  I put the book down 5 days ago and "Children of the Grave" is still looping in my head.  I can't shake it.  And I'm listening to the lyrics, really listening.  I don't know what it was about Sabbath, but of all my favorite bands I never put an effort into the words.  "Children of the Grave" is about love?!.  The last verse, except for the "Children of the Grave" line, reads like something from "We are the World."  "After Forever" is about letting Jesus into your life.  How did I miss that?  Roger has his music taken from him in the institution and all he wants is for Ozzy to do the preaching, not the shrinks.  He's singin' about love, man!  They never give him his tape back, so he plays it in his mind where Ozzy makes more sense than ever.  He uses his diary to explain why the album means so much to him, hoping they will give it back.
What I was most skeptical about in the beginning was how the story and the music would fit together.  Would the music stuff seem forced onto the story or vice versa?  The Mountain Goats dude pulls it off (oh yea, Darnielle is the guy from the Mountain Goats who I'm not too familiar with. This is when you say "He wrote a book on Sabbath?!")  The insight into the album and everything Sabbath is profound.  This kid has no idea how it was recorded or the little anecdotes behind certain songs or lyrics, but he doesn't need to know.  All he has is the album and how it makes him feel.  It's the listener who makes the judgments.  Try this:
"Ozzy always ALWAYS sounds like they just grabbed him off the street and stuck him in front of the microphone…No matter what he's singing, Ozzy always sounds like he was going to sing that anyway, even if there was nobody listening, even if everybody hated it, even if nobody was even going to put his record in the stores."
Good or bad, I can't get enough of the 33 1/3 books.  My big hope is everyone reads this one and realizes their potential.  Well, too much written and not enough said.  Fuck you all. Go to hell.