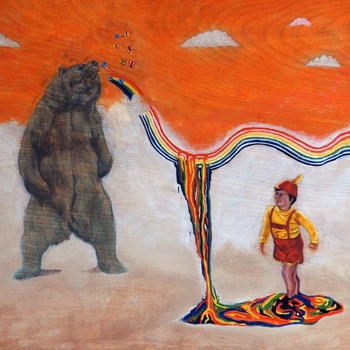 Gnarwhal – Duane
This is music for the Two Thousand Teens. Frantic, disturbed, paranoid, unsettling punk played by four dudes from Nashville, Tennessee.
The album is exhausting. To make it worse, or better really, it fills your head with questions. How does he play guitar like that? How do these guys play this stuff live? Are you sure there's only one drummer? What did he just say? Nashville? Really? Fortunately, the album is relentless and it never let's you slow down, gather your thoughts and attempt to figure any of this out. You do have 36 seconds of calm at the end of the 37 minute record, but that's reserved for panting, or spitting up blood depending on your extracurricular activities, body type, etc. etc.
This is not escapism. There's no time for that shit. The beginning of the album proves the band is out to destroy escapism, offering up a lovely 18 second diddy, then absolutely ripping into 37 minutes of the most forward-thinking, creative musick of the year. It is impossible to listen to Duane without simultaneously thinking about what the hell the guitar, the bass and the drums are doing.
Tags on Bandcamp sum it up: "america experimental hard rock math rock math-rock nashville progressive rock rock'n'roll sexy soft rock technical tennessee unclassifiable Nashville." I disagree with one of those. It ain't math rock because math is boring, but it is most certainly technical, American, hard and experimental.
To fall back on my safe ole metaphor of relatin' music to alcohol: Duane is Tequila. It's never boring, sometimes you fight, sometimes you fuck, but you always feel like you own the world when you're slugging it down and you never want to stop drinking it, until you've passed out.
The band does not take themselves too seriously, (band name, song titles including "Asbestosis," "In the Junk Sick Morning," "Cats Evasion," and my favorite, "I Never Really Got Into Cherries") which is refreshing for a band saying they're playing technical math rock.
While I'm not a huge fan of the singing style, it hardly matters because there aren't many words. It's the only bear trap the band falls into as far as punk trope is concerned. The singer spurts out mostly indecipherable words occasionally, but most of the album is a strange trip of head scratching riffs and oddly timed albeit beautifully executed starts and stops. (Maybe I'd feel differently with the lyrics.)
While other current bands in the world of aggressive punk (Off!, Double Negative or Cerebral Ballzy) tread backwards by dusting off riffs from the 80s and 90s, Gnarwhal looks ahead by trying to create sounds other dead or old assholes haven't already done. Like past crusaders Minutemen or Mission of Burma, Gnarwhal is not a slave to punk. Punk is about doing things other people aren't doing and I haven't heard a band attempting to mash together a million ideas like this and pull it off in a while. With that in mind, I now thee dub Duane the best punk album of the year.
One more thing: Double Dagger is dead, so its nice to know there's a Gnarwhal out there.