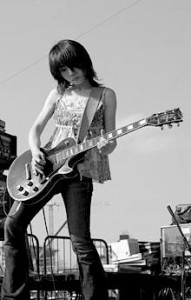 Concerts are boring.  I think I first realized this at the back of a widening mosh pit at NIN a few years ago.  Trent Reznor was up front flexing his muscles and fisting himself, much of the crowd doing the same.  I swore off concerts that night.  My neck hurt.  The beers were small and $30.  My back hurt.  My feet hurt.  My eyes hurt.  I was disgusted with the whole scene.  My one man strike didn't last long.  I don't remember why but I went to a show a couple weeks later.  I have never stopped, and I know I never will.  Some kinda drug, eh?  Why the hell do I do this?  Why the hell do we do this?  Pay good money, even a small show for 5 or 6 or 7 bucks, that's a four pack of 24 oz. CoorsLights, my favorite, to stand and stand and shift our weight and try to talk and listen over some fuckin shitty Buckcherry album playing to "warm" us up.  I can turn the lights out and listen to Beefheart drunk for that price.  And yet I return.  I go because out of every 10 or 20 or 30 shows that are "eh, pretty good" I get one that's really worth it. 
Enter BORIS.  BORIS who has been in my head since seeing them two times earlier this year.  BORIS who has been sitting idle in my head for months, unable to comprehend their shows, until this morning when I started writing this in my head in the shower.  Oh and to make myself look ever dorkier- I was head banging and playing the drums, simultaneously!
BORIS makes me feel bad about America.  I feel embarrassed.  I feel bad for England.  I feel bad for those other weird European countries where metal runs their blood.  I feel bad for the entire Western World.  The early metal Brits should have cut ties with us and headed east, to that island I know nothing about except Pokemon, showering teenager manga books, BB guns in bars and BORIS.  Where did they hear about metal?  And this band has been around.  Around for 10 years around.  Around since Pantera in their prime around.  What     the     fuck!?  The word is ethnocentric.  Americacentric.  I can feel the stares already.
So there I was at BORIS for the first time having only listened to PINK for about 15 minutes.  Waiting.  Waiting.  I was stuck under the low ceiling at the Knitting Factory, stuck behind a lot of impatient sweaty people.  Why the fuck do we do this?  Then boris comes on and its boring.  15 minutes boring.  Slow drone…. But….THEN.  THEN…
BORIS knows how to set the table.  I'm in a band and I can't do it.  I'm a premature ejaculator like most of the metalheads and punkheads and hardcoreheads of this Western World.  We've got a baseball bat and we've got a table and we smash it.  Sure, it's fun: loud- wood on wood- exciting, but it's the same thump, the same crack and you break your wrists doing it.  BORIS sets the table first.  Discipline is a damn good word to use for it.  BORIS takes their time.  They set nice antiques on the table, soup bowls, Norataki China plates, 3 kinds of spoons, 2 kinds of forks, salad and meat, butter knives and steak knives, thick glass pitchers full of dark red wine, wine glasses, water glasses with ice, napkin rings, linens white gold and red, and its really BORING.  It's so fucking boring, but it's all worth it.  They get out their baseball bats, 5 bats, 2 for the drummer and he stands on the center of the table and screams into his Madonna mic headset smashing with both hands, both bats, the glass and metal and silver and wine splattering against the walls.  They are all doing it.  And one's a girl!  Wata!  THIS is not boring.  THIS is BORIS and its GLORIOUS.  Sorry for the cheap rhyme to end this, but I did it and I'm proud of it.  BORIS makes me proud to be on this Earth, but still disgusted I'm American.
BORIS shows in and around the City:
November 9 @ Maxwell's
December 3 @ Williamsburg Hall of Music
What the fuck! Boris is opening for NIN now? Well, the article officially comes full circle now. Take that, you fucks!