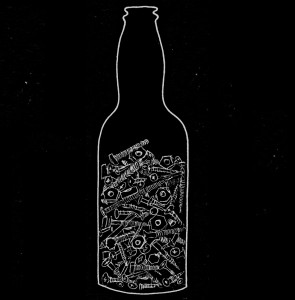 I had never heard the name Alejandro Escovedo before he walked on stage at Castle Clinton in Battery Park in 2007. Evelyn and I were there for Roky Erickson. He came on stage with three other dudes, I remember a violin and a cello. He had a guitar and they all sat down in a semicricle. The details are hazy, but I remember turning to Evelyn at least three times during the set to say, "This is amazing, right?" She said yes, it was amazing. I needed some sort of reassurance because what I was hearing was hard to wrap my head around. The strings were demonic. The band was heavy, heavier than most metal bands and Alejandro's voice shook that War of 1812 fort. He told stories, but it was never folky, he rocked out but it was never rock n' roll, the strings popped and hummed and swam along, but it was never classical. To give David Fricke from Rolling Stone his due: "Musically, Alejandro Escovedo is in his own genre." He is. I was absolutely captivated by the sound and wanted more. Shortly after, Roky Erickson killed it later that night and overall that show was one of if not the best free shows I've ever been to in my life. So I went home and downloaded some Alejandro.
I didn't really like it.
It sounded overproduced. It sounded clean and what I had seen was dirty, harsh, blood curdling music. So I moved on. But I always had in the back of my head a lingering desire to hear something like the Castle Clinton show on record. As he put out albums, I listened to them, but with every one I was more disappointed. They were good, but not what I wanted. The records sounded like Lou Reed's solo albums compared to the dirty noise of the Velvet Underground I had seen at Castle Clinton. For years, that show stayed in my head. Recently, I restarted my efforts to find the Alejandro Escovedo I had heard that night. I read about him everywhere I could and learned he plays will all different musicians on different tours. He doesn't always play with strings, but he does in his quintet. I had seen a quartet at Battery Park, but it was close. I stumbled across Room of Songs, a double live album from a 2005 show with his quintet in Texas. AllMusic.com doesn't even give it stars or a synopsis, but holy shit, this is it.
Fourteen songs, including a haunting version of the Gun Club's "Sex Beat," and every bit as powerful and heavy as the show I had seen. I'm listening to Room of Songs for the fifth time today already. It's been a lovely Sunday, waking up late with a hangover and no work to do, listening to one of the best albums I've ever heard in my life. I love metal, but I love metal bands that are heavy. What I mean is, if you were to play a Slayer song on an acoustic guitar with a stand-up bass playing along, it'd be heavy. The music would still be interesting. You can't say that for most metal bands. And what I love more than anything is a non-metal band that's heavy. PJ Harvey on Dry (very creepy, deep strings on that as well). Osvaldo Pugliese on "La Yumba," a metal tango from the 40s. Like Alejandro, Osvaldo is heavy, stomping, skull crushing music and yet it's branded old people music. Alejandro plays City Winery instead of Bowery Ballroom. His album covers look like they belong in the same bin as James Taylor, but they belong with Shellac. He should be on a co-headlining tour with the Melvins, not opening for the god awful Dave Matthews Bland. Get Room of Songs, its cover is terrible, its title is terrible, but the music is some of the most inventive of the 21st Century. And it's heavy.